Diary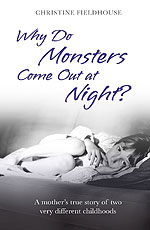 This is my online diary where I publish updates on my writing life....and sometimes my non-writing life
23/12/14 : Happy Christmas 2014
To anyone who gets this far on my website - have a lovely Christmas and a very happy new year. May 2015 bring us all we want and more.
28/02/13 : Happy New Year!
Belated wishes for 2013 - I haven't just come round from New Year's Eve, honest. Just been busy, writing, reading, walking....
In case you think you've been pruned from my life, and you haven't heard from me in ages, my old computer crashed, losing all my e-mail contacts (no, I hadn't backed them up) so I've been borrowing all the others in the house....until now!
I have my new computer complete with Windows 8 and it is true, it has already reduced me, a grown woman, to tears and violent outbursts.
But - I'm still here. Please do send me your e-mail address. It'll be good to get back up to 5,000 contacts again. I'm on 55 at the moment!
05/09/12 : Back to school Wednesday 2012
Yes, it's the big day, back to school Wednesday. And back to school means back to work. After firing on one cylinder for a few weeks, I'm now back at my desk, raring to go!
I spent the summer in Dorset, Devon and the Lakes,and reviewed the gorgeous Soar Mill Cove near Salcombe and Thurlstone Hotel not too far way. I got in touch with my Inner Tarzan and went Go Ape at Whinlatter Forest, visited Monkey World near Wareham (there's a theme running here) and played badminton for the first time in 30 years, only to get thrashed by my 12-year-old. Yes 12. Really.
I'm now working on meditation, making ourselves richer and confidence, and I want your running tips for a feature I'm about to start. Enough of this gossiping, it's back to work Wednesday!
03/05/12 : Things I'm writing about!
Very random but here we go.....ears, dog-friendly hotels, emu oil, famous runners, silence and Bournemouth! If variety is the spice of life, I'm a spicy one all right.
11/10/11 : @C_Fieldhouse
Having resisted Facebook for what feels like 300 years, I've discovered the power of the tweet. All down to Twitter, I started watching The Apprentice (thanks to Glamour editor Jo Elvin), learnt that Bin Laden had been captured (thanks to Myleene Klass) and kept my son happy with Newcastle United gossip (thanks to player Jonas Gutierriez). My Twitter handle is @C_Fieldhouse if you fancy a look.
Have had a busy year writing features about health, fitness and running for Running Free, as well as writing features for the usual suspects.
Our second edition of Pick-A-Zine, a primary school magazine, was a stunner and here are some of my favourite lines:
Children shouldn't watch 18 films if they have nightmares because they will wake up sweating and all wet (boy aged 10).
My dad put me to bed once. He didn't read me a story. He just knelt on the floor and talked to me(girl aged 5).
Gnomeo and Juliet would be a good film for all ages as long as they like films about gnomes. If you don't like gnomes it will all be a bit boring (girl aged 10).
Working with some Traveller pupils in Stokesley, writing their autobiographies, and getting them issued in their local library was fun and I learnt some new words - a gorger is a non-Traveller and kushtie means good, mint, awesome. I also discovered never to say the R word (imagine a creature with a long tail, considered vermin) - the word itself is considered bad luck in travelling communities.
Still with animals, I've also been horse whispering - a 16hh mare called Dotty is my new life coach! When I was losing interest, Dotty gave us a big toothy yawn, and when I thought I was rubbish at whispering, she .... well.... lifted her tail and deposited a pile of manure on the ground. Oh dear, she read my mind...literally.
We stayed closer to home for my travel features this summer. My son Jack chose one quality destination - Blackpool and we also went to Bournemouth and then on to the New Forest.
It's been a summer of barbecues, cocktails, dog walking and rollercoasters. Our favourite TV was the Grange Hill box set (to prepare us all for secondary school).
Now we've progressed to The Waltons (still fancy John Boy), and Strictly, of course. Just need the good ladies of Wisteria Lane back now and I'll be set for the mini Ice Age I keep reading about in the Daily Express.
01/03/11 : World Book Night, March 2011
I'm still here, just can't bear to post things that are boring but true, such as "I've just made a cup of tea." But Happy New Year and good news! I'm officially a giver. I have - or rather will have when they arrive - 40 copies of One Day by David Nicholls to give away on World Book Night. I loved that book, and there's one line in it (which I can't say because it will spoil it for anyone who hasn't read it) that still haunts me now. If you've read it, and enjoyed it, please get in touch with your comments. And has anyone read any others of his?
22/07/10 : Internet suicide sites
As a result of a piece I wrote for the Telegraph magazine in May, many readers have been in touch to ask what they can do to try and get sites which actively encourage suicide closed down.
In my feature I wrote up the heartbreaking story of Rosie Wilson, whose daughter Ziggy, a beautiful young woman with everything to live for, had attempted suicide and been left brain damaged. Ziggy had got her information from these sites.
I've been in touch with Papyrus, the group campaigning for the closure of the websites, and they advise people to contact their MPs in the first instance. With a new government, Papyrus is keen to raise awareness of the issue and get MPs on board so one day, some action may be taken to prevent what happened to Ziggy happening to someone else. If you missed the feature, be warned, it's harrowing. It's on this site, under Journalism.
18/06/10 : Flavia and football
The World Cup is here again and do you know I have only ever seen one WC game in my whole life? I know, it's appalling considering I live in a house where even the dog can't get enough football action, but for a month every four years I get regular child-minding which means time off and I can't spend that watching telly. Before we had Jack, I seem to remember quiet motorways and cinemas now and then.
Speaking of telly, I went into a bit of a decline with the demise of 24. Jack Bauer has been such a part of my life for nine years and we've been through so much together that I'm finding it hard to live without him. I cried so much at the final scene, Jack and Chloe saying their goodbyes for the 1,000,000th time. I've been there so many times and still I let him break my heart. Dammit.
Also got the chance to interview the lovely Flavia from Strictly, one of my favourite Autumnal programmes. I expected her to be haughty and arrogant. Not a bit of it. She doesn't think she's good-looking, she can't believe her popularity and - get this - she doesn't think her flatter-than-flat stomach is anything special! So glad she didn't get to see mine or she would have nominated herself for a Queens Honour for services to stomachs.
Other projects include producing a magazine and some KS1 writing at Jack's school.
Now I've seen Sex and the City 2 and loved it, the subject closest to my heart now is Crete - I've read The Island and loved it, now I want to go and write about it this summer. I've followed the advice of the many gurus I've interviewed and visualised us all there. My cossie's in the case in anticipation and only this morning, Jack, a guru-to-be (albeit a no-nonsense one) said he could smell Crete. That's my boy.
04/02/10 : Happy New Year - even if it's February!
Belated greetings to all those who read these entries. I can't believe it's February already. Where did January fly off to? I cocooned at Christmas during the snow and spent some lovely times in January engrossed in eat, pray, love, by Elizabeth Gilbert. The rest of the time, I've been enjoying the simple life - walking, watching old films, screaming at Jaws which I'd never seen, watching the wonderful, wonderful 24, Desperate Housewives and NCIS (from scratch)oh and yes, doing a bit of work!
25/09/09 : French translation!
Good news! Monsters has been translated into French, ready to go on sale in Canada. I bet I sound much more sexy nagging Jack and Crossy in French than I ever did - and still do as a regular part of my daily schedule - in English. Au revoir for now.
06/09/09 : Happy Autumn!
I can't believe it's Autumn. Where did that summer go? But, like most mummies, I do love September and that lovely back-to-school feeling, when you rein in the chaos of August and become all orderly and organised.
I suspect life in our house will never be that orderly again.....because there's a new man in my life. He's brown, he's handsome, he's happy, we go for long romantic walks together and he has the waggiest tail. Yes, he's a puppy doggy called Buddy. He's actually Jack's, but I've already banned Jack from leaving home and taking Buddy with him in ten years' time. Some people have told me I mustn't become a doggy bore, so I won't go on about how Buddy has just graduated from Puppy Training School (with honours), how he won 5th prize in a waggiest tail contest and how he swam for the first time in the sea in Cornwall this summer. There! I've said it, it's off my chest. I'll move on....
Been a busy old time journalism-wise. I've worked on features on Suzy Greaves's new book, The Big Peace, and I did a traumatic week (traumatic for anyone in our house who was hungry) working on a feature on Economy Gastronomy, the BBC2 TV programme which aims to cut our food bills. Because we live in the middle of nowhere, ie, about 3,000 miles from a shop, I do a massive bulk buy, often online, then chuck stuff away so the idea now is we use everything we buy - bread gets whizzed into breadcrumbs, bananas go into muffins, you get the picture? I was supposed to make our own bread (didn't have time), bake our own biscuits instead of buying Kit Kats (they came out of the oven looking thin, black and hard) and knock up some calorie-laden puddings (didn't want to get too fat). Got there in the end, and am doing okay now....but oh the stress of being hungry, trying to master about 15 new recipes, answer the phone, work, look after children.... Both of those features appeared in the Daily Express, where I was called a "kitchen no-hoper", bit of an understatement actually. The best Jack comment was about my escalope of chicken with sage and lemon (I can't believe I've just said that)and it goes like this: "My mum makes the best ever chicken. She just burns the breadcrumbs, then puts the chicken in." I obviously still have a lot to learn from the Economy Gastronomy gang.
Bookwise, I've had some lovely messages - people are STILL buying and reading Monsters, after all these (two) years. Thank you to all those who've been in touch - from as far afield as South Africa, Gibraltar and Guernsey. Some said they'd laughed, some had cried, others said it had helped them a lot so thank you for telling me.
Everyone's asking this - I'm still working on number two book, and hope to get it cracked once and for all over the next few months. Dragged my heels a bit and have done lots of ironing instead of writing, which I'm told a lot of writers do.
Had a lovely treat and read Sophie Kinsella's Remember Me on the beach in Cornwall, while Jack built a sandcastle and dug a moat the size of the M25 and Buddy weed on passers-by (I pretended to be so engrossed in my new book not to notice all passing trousers ended up damp from the knee downwards). On that worrying note, steer clear of Border Terriers, especially boy ones with excitable bladders, and enjoy the Autumn.
08/05/09 : I was once a prison guard!
Had some interesting features to do in my time, but not many filled me with as much dread as going to get regressed to see who I was in a previous life.
It was one of those ideas that was great when you've had a couple of drinks with your friends, but in the early hours of the morning the thought of being out like a light travelling back in time was scary. Jack was very worried I would discover I was once Henry V111 and start wearing a doublet and hose to walk him to school in, and Crossy was scared I'd return even barmier than I am already.
Luckily, my therapist Nicolas Aujula, from the Psychic Channel on Sky, was a real pro, and I discovered, in quite an emotional session, I was once a Dutchwoman called Hilde, who freed some Czech prisoners in 1916! The whole experience was enlightening though I've wondered since if this really did happen, or if I just have a very fertile imagination. Some of the places were familiar, yet I didn't recognise others.
Spookiest of all was finding my parents had died when an illness swept through Holland in 1903. Back home, when a friend googled this, she found the bubonic plague struck Holland between 1903-1906. I'm sure I never knew that - not in this life anyway.
12/02/09 : Wendy's funeral
Writing aside, I went to one of the saddest funerals I've ever been to yesterday - that of Wendy West, who sadly died at 43 after suffering breast cancer. I didn't know Wendy as well as some of the people at the funeral, but I remember her for her lovely warm smile, no matter what was going on in her own life.
Wendy had two children, Jack and Maddie, and her husband Andy, and during the service there was a slide show of photographs from the family's album. There wasn't a dry eye in church when Maddie stood up and told the congregation her mum was "the best mummy in the whole wide world" and when we saw photos of Wendy as a mum, wife, friend....always laughing, over the years.
While we all came away feeling the lovely service had taken place 40 or 50 years too soon, we all felt there was a lesson there - that life is for living. I know it's a cliche, but it did me good to be reminded.
03/02/09 : February 2009
I lied last month. I have been going out. Well, I've been doing the school run and the essential jobs, like consulting decluttering experts to analyse where my clutter problems come from - all for professional reasons, of course.
Apparently my clutter problems come from the vast amount of paper that comes through the door – newspapers, magazines, post, junk mail, flyers, takeaway menus: bucketfuls of the stuff and all highly essential! You can read that one - it appeared in the Daily Express on 9 February 2009.
I've also been a VIP, which helped to shed a few pounds with worry and fear. I opened a school library and was asked to say a few words about how much I love books, reading and children (in that order). The funds for the library at Ainderby School, near Northallerton, were raised at a ball which I went along to, so it was nice to see the fixtures and fittings which my bar bill at a brilliant evening went on to provide!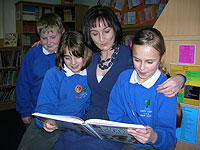 Here's a photo of four of us pretending to be engrossed in a book about mammals.
20/01/09 : January 2009
Happy New Year! How late in the month/year can you say that? Ah well, new year and new look for this diary section. No more pontificating about what I'm reading (This Charming Man, Marian Keyes and Wife in the North, Judith O'Reilly, and I love them both), who I'm seeing (no one - no nights out planned in this cold, cold month), what I'm buying (a treadmill to make me run at unearthly times of day and night), and what Jack's been saying ("Where's all my Christmas chocolate gone, M--u---u---m?"). Instead, I'll reveal as and when what I've been up to...
Is anyone out there watching 24 season 7? I love it so much there was a time when people wondered if our own Jack was named after the great man Jack Bauer himself - but he wasn't. JC came into our lives in April 2000 and JB a year later, but I would have if I could have. And that's what I'm doing tonight. Told you my January is too exciting to write about.......
26/08/08 : Summer 2008
Where I've stayed: Had a lovely summer and have been to my favourite country Austria twice, first with Jack on a press trip with Inghams, then with Crossy and Jack for a travel feature. Was good to see those mountains and marmots (very cute beaver-type creatures) that live up high.
What I've been doing: Enjoying myself on holiday, days out with Jack and compiling some memories of old boys and girls from Jack's school. Was chuffed to find people in their 80s who travelled to school on a pony and cart.
What I'm reading: Having never read a Jodi Picoult book before, I'm starting with My Sister's Keeper, which will have me completely addicted, I'm told.
Social event: The Ainderby School summer dance was a riotous night out, with dancing on tables, lots of wine and I got flowers for my sterling efforts with their publicity (I wrote about five paragraphs).
29/05/08 : May 2008
Where I've stayed: Quiet month really with just one night away in Newcastle where we stayed at the Marriott Hotel in Gosforth Park, after the North East Press Awards ceremony. Made an amazing discovery in the gym at the Marriott - I can run on a treadmill with a hangover and feel prefectly well, but I can't stand still without feeling woozy.
What I've been doing: I was a guest speaker for the NSPCC's annual fund-raising lunch at Solberge Hall in North Yorkshire. We covered journalism, being brought up by an alcoholic parent, and my book - and the event raised £1,158.80 for the Northallerton area NSPCC.
What I'm reading: Joy of joys, Harriet Evans' Going Home arrived so I've been sloping off to bed early with Harriet for a chapter or two.
Who's made my day: My in-laws Ann (aka Granny Annie) and David for their sterling three-night babysitting service so I could live it up and lie in over Bank Holiday.
Social event of the month: Definitely the North-East Press Awards ceremony at the Civic Centre in Newcastle. Kevin Maguire, political editor of the Daily Mirror, was the guest speaker and very entertaining he was too. Sat next to fellow judge Banksy (David Banks), a former editor of the Mirror, who was very entertaining and not half as scary as I thought he'd be. Best course was the dessert for, after a whole week of cutting down to get into my awards frock, I lost a staggering four OUNCES!
Jack's quote of the month: "Mum, don't sing, you're never going to win X Factor and you're doing my head in." Charming. Whatever the kids say, keep up the singing in June.
29/05/08 : April 2008
Where I've stayed: I've had the most fantastic Girls' Night In at the Wyndham Grand Hotel in Chelsea Harbour with my friend Rachel, and if there are any women out there looking for a special pampering night, look no further. We had a suite with a to-die-for view of London, treatments, dinner and breakfast in our suite, and a bumper goodie hatbox of beauty products. We emerged from our room to walk off a few calories and then top up again with lunch in the restaurant.
What I've been doing: Went to Julia Armstrong's book launch. Julia has written her autobiography, Running to Learn, and tells the story of her athletic career, her eating disorders, her four marriages and coming to terms with her past. She's now a coach and relationships counsellor.
What I'm reading: Well, I've read Julia's book above, as well as an empowering book, 21 Ways & 21 Days, by a psychotherapist called Tricia Woolfrey.
Who's made my day: All those fab little kids who came along (all 40 of them) and celebrated Jack's 8th birthday aboard an inflatable crocodile in the swimming pool. And their parents for not taking legal action when their children were booted off unceremoniously by the birthday boy high on life.
Social event of the month: The Slimming World Greatest Loser 2008 ceremony was a glittering affair, with some inspirational weight losses. One man lost 23st!
Jack's quote of the month: On the subject of his 8th birthday: Mum, when I'm 18, will you be 100?
On the subject of age, hope you're wearing yours better than I obviously am. Happy May.
08/04/08 : March 2008
Where I've stayed: Just back from Brazil, yes, Brazil South America, where we had the most fantastic fortnight, pony trekking, swimming, walking, sight-seeing, reading and lying on the beach.......Stayed at the very fine Eco Resort north of Salvador, then onto Breezes at Costa do Sauipe where we relaxed and had great fun and for the first time in years, not one of us wanted to come home.
What I've been doing: Busy, busy month - World Book Day was fun at Hartlepool, where I met lots of lovely readers. It never fails to amaze me how many different questions people ask about my book. Just when I think I've covered all angles, another one pops up. The West Tanfield Homemakers in North Yorkshire were also a lovely bunch and we sat around discussing families and secrets and alcohol and books. Also went on BBC Tees to talk about self help books. Being a fan of Louise Hay and Susan Jeffers made that one an easy subject for me - always dread being asked about Iraq, the China/Tibet situation or sport of any kind on radio! And I was in London for hypnotherapy for a feature.
What I'm reading: A friend gave me a fab book, A Hopeless Romantic, which was top holiday reading.
Who's made my day: The staff at Breezes for making our Brazil trip so special.
Social event of the month: Holiday aside, I went shopping, I went to London, had some drinks with friends, had a meal but the highlight was seeing Horrible Histories with Jack at Darlington Civic Theatre. We sang the songs all the way home - he's definitely a lively, cheerful sort of date, though he doesn't share his interval candy floss with me.
03/03/08 : Christine's February 2008
Where I've stayed: February was a lovely month - half term meant a week off work and school, and I had a bumper week lined up for us ....until Jack and Crossy were ill, and the first part of the trip - to a resort in Hampshire called Sandy Balls - had to be cancelled. I was gutted. I so looked forward to sending postcards with Sandy Balls all over them! However, we made it to Wiltshire for the second leg of the tour and stayed at Hindon, then we went on to the very swish Watermark in the Cotswolds, where we went riding, cycling and fishing.
What I've been doing: Two big radio interviews about Monsters this month - one with presenter Maurice Boland for Radio Europa Meditteraneo,an English-speaking station in Spain (sadly not done in Spain, but from the very scenic Cotswolds), and one for the BBC Asian Network, where Nihal and I chatted about parenting (he's a new dad), kids, life and the universe. The rest of the time I've been on a detox diet (for research purposes) - if you noticed someone looking longingly while you tucked into steak pie and chips, it was probably me.
What I'm reading: Figured I needed something wonderful to cheer me up during detox, so I went to bed early every night with Sophie Kinsella's Shopaholic and Baby, which I loved because I'm a Becky Bloomwood fan and I quite fancy Luke too.
Who's made my day: For an interview I had a session with an energy coach Alyssa Abbey, and she was absolutely lovely. I like most people I interview, but every now and then someone really special and passionate about their work comes along, and Alyssa is one of those people.
Social event of the month: It's hard to live it up when your diet forbids alcohol, caffeine, wheat, dairy and meat - none of my friends wanted to join me for a poached egg on a green salad (yes, I know, sounds disgusting). But on the very last day, the diet was over and I sneaked off to our local pub for a delicious meal with Crossy. We also had some lovely nights in in our Cotswold palace.
Jack's quote of the month: "I know what I'm getting Mummy for Mother's Day. I'm going to the village shop to get her a bottle of wine!" Even more worrying was the fact he was spending under £3 on it! Yum. Got chocolate in the end and have resolved to drink less (in front of Jack!)
31/01/08 : Christine's January 2008
Where I've stayed: Just one trip away and very nice it was too. I spent 48 hours at St Oswald's Pastoral Centre up on the cliffs at Sleights near Whitby, north Yorks - IN TOTAL SILENCE! Bliss.
What I've been doing: I was at Easterside Library's Reading Event to talk about books, reading and my book in particular. Once again, Middlesbrough Libraries got it just right - books, cakes and tea. A perfect morning! I was also on Alex Hall's Girls Talk programme on BBC Tees, where we discussed what we do the last half hour before bed. Topics covered included Jackie magazine's advice on cleansing and moisturising, checking all doors, cleaning the kitchen, wearing gloves in bed and whispering sweet nothings......to children.
What I'm reading: I loved Dawn Annandale's Call Me Elizabeth, which is now doing the rounds of the mums at the school gate. Still saving Shopaholic and Baby to savour somewhere exotic, with a cocktail, and the sun beating down on my shoulders. Rules out half term then.
Who's made my day: The nuns at St Oswald's for the time and space to sit and think, something I haven't done properly for about 20 years! And sports physio Toni Atkinson for getting me fit to run again.
Social event of the month: Burns Night and eating haggis for the first time was fun; otherwise, had a quiet, very sober month!
Jack's quote of the month: Wondering where my husband (aka Crossy) was one evening, Jack suggested his dad may have been in a car crash. I looked a bit horrified at the thought, then Jack added: "You see, Mummy, you're not the only one who cares about Daddy." Sweet (when it comes to his dad). He also commented on my simple wholesome stay with the nuns: "Didn't the nuns' hotel have a swimming pool?" There's a boy who knows about the finer things in life.
08/12/07 : Christine's December
Where I've stayed: Got December off to a great start with stays at the Sheraton Park Tower in Knightsbridge, London, and Norton House Hotel, Edinburgh.
What I've been doing: Went to London with my friend for a body scan for a health feature I'm writing, and then zipped up to Scotland for coach Phil Olley's Focus Group meeting to plan for next year. Oh and I had a birthday in between! I've also been back behind the mike - on Radio Teesdale in Barnard Castle, talking about my Christmases as a kid and how problems within families always seem to reach a crescendo at Christmas. Bet you can't wait for the big day now I've whetted your appetite! We ended on a happy note though....
What I'm reading: Read Stephen Richards' Cosmic Ordering Guide, but fear I need to re-do my Physics at school to understand it better. Now on A Place Called Here by Cecilia Ahern, which is a bit like the TV series Lost. But joy of joys, have got Sophie Kinsella's Shopaholic and Baby ready for one of those weekends when all I do is lounge around and read (we're talking 2010).
Who's made my day: All my friends for buying me lovely birthday presents - choccies, flowers, exotic bath oils, photo albums, Sex and the City DVDs - and reader Suzy Cameron, who e-mailed me to say Why Do Monsters Come Out at Night? is the best book she's read in years! Also, Katherine Hutchinson, who said Monsters had her crying one minute and laughing the next.
Social event of the month: Busy month but London with Kay and ten afternoon teas in one day was pretty good fun, as was Kay's mulled wine party.
Jack's quote of the month: "I didn't miss your love when you were away because I know Daddy loves me, but I did miss your cups of teas." S'good to know where my talents lie!
Whether it's cups of teas or something stronger for you, happy holidays.
19/11/07 : Christine's November
For some reason, I always think there's an extra fortnight in November, probably because I think there should be, busy month, female logic and all that.
I made an impromptu "appearance" on BBC Tees when presenter Alex Hall did a piece on the dying art of letter-writing. Having just written my husband an ode (no, I have no poetic aspirations) for our tenth anniversary, I felt well qualified to talk about love letters.
Elsewhere, Monsters has had the loveliest of reviews on Amazon from a journalist and writer Lucy Felthouse. Lucy described the book as an "up yours" to miserable true life stories, which was exactly what I always hoped it would be. Her five star rating now gives me 11 five star reviews on Amazon which is brilliant.
I've been published in the Daily Express (twice in one day), with a feature on rebalancing energy (from a workshop led by health kinesiologist Jane Lumley in Newcastle a few weeks ago), and interviews with three women whose husbands had never seen them slim...until now.
The three case studies had been overweight for as long as they'd known their husbands, but have now slimmed right down. One even lost 11st. It took me a while to get my head round that one. I mean, where does 11st go? God knows how many bags of sugar that is. It must be the equivalent of an entire sugar-producing country.
A piece on children's bedrooms also appeared in the Daily Telegraph Weekend section. A few years ago, and two houses back, I'm embarrassed to say our son Jack moved into our magnolia-painted bedroom, and he never had a little boy's bedroom with space rockets and dinosaurs and dragons. We made up for that when we moved but he wasn't that bothered - he loved his old bedroom! The feature I wrote was about how we parents go to such trouble to give our kids' rooms a theme, even though sometimes the kids aren't that bothered who's on their curtains (as long as it isn't Barbie).
Bye for now, I'll add more exciting news when I have some!
01/10/07 : Christine's October
Highlight of the month is my review in the Scottish Daily Mail. I'm just relieved that the reviewer looked beyond the misery and recognised my book has a happy ending after all. It's on the Reviews page if you fancy a look.
I also had an interesting afternoon at Borders at Teesside Park, Stockton, promoting Monsters and chatting to customers who obviously love books and read avidly, so many thanks to the shoppers who bought my book and stopped by for a chat. It was scary how many of you were doing Christmas shopping but hey, nine weeks to go, I was told by each and every one of you. Very exciting too was seeing my name in Borders' window, alongside my absolute hero Kiefer Sutherland, aka Jack Bauer of 24 fame. Jack Bauer's picture was on a poster to promote season 6 of 24 on DVD, but hey, we were together momentarily, albeit in a bookshop window.
I was also asked back onto Alex Hall's show at BBC Tees to talk about the things we learnt from our mums. My mum would have loved me to say it was cooking, baking, sewing, knitting and cleaning: I said the things she taught me were far more important - a sense of humour and those old-fashioned values like commitment, honesty,hard work and the ability to drink half a tumbler of brandy as a nightcap have been far better skills than making Yorkshire puds!
Have been busy with journalism the rest of the month and stalking everyone I've ever met to find case studies for deadlines - when you see these features in the papers they look as though they've been put together with such ease, and you'd never know the sweat and tears that go into them.
02/09/07 : Christine's September
I'm having great fun talking books, and most recently have been at the Marriott Hotel in York for a seminar on writing a book. Performance coach Phil Olley, who coached me to write my book, ran the course which was so inspirational and instilled some budding authors with the confidence to get started on their writing. Our youngest participant Bethany, 11, was the only one who didn't need a shot of confidence! Watch out for that girl, she's wise beyond her years.
My latest talk was at Swaleside WI in Sinderby near where we live, and while it was nice to be on familiar territory, it felt a bit odd doing a talk to people I meet at the local shop or at the school gate, or in our local pub but they were lovely and appreciative and as always we had a great question and answer session afterwards. I roped a friend in for moral support but she didn't tell her colleagues she was off to the WI, she said she was getting her eyebrows waxed!
My interview for Radio Shropshire was a big hit apparently - I'm out of the broadcast area - but presenter Keith Middleton got quite a few calls asking about my book afterwards.
Also had a note from the British Heart Foundation to say thanks for the £110 raised at my book launch, in memory of my mum, so thanks again to everyone who contributed. I've had to pull out of the Great North Run for the BHF this year (a hip injury) so I'm extra pleased I managed to raise some money through Monsters.
09/08/07 : Christine's August
In journalistic terms it's the silly season - the courts and councils have a break so there's supposed to be no news. Well, that's the theory......
No silly season for me - I've been busy, mainly around the Middlesbrough area. My last stop on Teesside was at Middlesbrough Library, where I gave a talk about my childhood, my book and writing my book. It was Friday night and only a handful of people came along, but I learnt it's quality not quantity. The people who came were really interesting women and we had a lovely chat afterwards.
Earlier in the month I was invited to stand in last-minute for author Zoe Barnes at a Girls Night at Berwick Hills Library in Middlesbrough. Also on offer were angel card readings, Indian head massage, foot massage - and chocolate! How could I refuse? It was also exciting to meet people who have read my book, without being forced (by me) to do so! And then they recommended it to their daughters and friends, which is brilliant.
I've also been on the Alex Hall show on BBC Tees. Regular listeners will know Alex has a slot called Girl Talk, where female guests get to go into the studio and chat about anything and everything. When I was there we covered duvet covers, bedrooms and what we do when we first get home - all very important stuff. Alex, apparently, goes and gets changed whereas I put the kettle on. Told you it was important.
I've also done a book signing at Waterstone's in Captain Cook Square. It was a sunny day - THE sunny day of the summer, wouldn't you know it? - and everyone had gone to the coast and the races, so a big thank you to those shoppers who chatted to me and bought my book.
From Boro to London and I judged the Silentnight children's story-writing competition, where I got to meet our son Jack's latest hero, Jeremy Strong. For those who don't read children's stories every night at 7.30pm, Jeremy is the author of some fab stories for kids aged about seven or eight. They're all completely off the wall, which is worrying because Jack absolutely loves them. We've just finished Beware Killer Tomatoes and we're onto Chicken School now. They're so much more entertaining than 100 Facts You Never Knew About Sharks and Dinosaurs and Dragons, and such like.
Jeremy was a co-judge at the awards, held at Waterstone's in Piccadilly, London, where a nine-year-old girl from Scotland beat thousands to win the top prize. It was hard to choose a winner, they were all so good, but I could see the winner's story being made into a bedtime book for kids. Imagine that, your first book at nine. Hope your August is proving just as successful!
17/07/07 : Christine's July
After months of anticipation, my book, Why Do Monsters Come Out at Night?, has been published and is now even in some of the 3 for 2 summer reads promotions. I've been through all sorts of emotions but the feeling of pride when I saw my book in Waterstone's window in High Street, Northallerton, was second to none.
I've done my first ever book signing at White Rose Books in Thirsk, and thanks to everyone who came along, especially little Eleanor from Witton le Wear who told me her life story during the quiet times!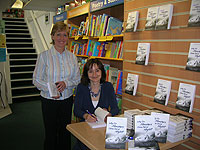 I'm pictured here at White Rose Books with bookshop owner Sue Lake. I signed copies of Monsters and chatted to customers, before being lured into the coffee shop by a cup of tea and a caramel slice.
I have spent the last month publicising my book both in the newspapers, and on the radio. The most recent piece was in the Daily Express on Thursday: one of the editors cried at that one, hopefully because it was emotional, not badly written!
Going on radio for the first time in my whole career a few weeks ago was a scary experience, but very exciting and the more I did, the less terrified I felt!
So far I have been interviewed by BBC Radio Bristol, Radio Humberside, Radio Leeds, Radio Solent, Radio York and Minster Northallerton, our local commercial station. Keith Middleton, a well-known presenter in the Midlands has also interviewed me for a late-night show he does called Issues and Tissues. When I heard that title, I wished I'd thought of it! Watch this space for when that goes out on Radio Stoke, Radio West Midlands and Radio Shropshire later this summer.
But on June 27 came my radio highlight - I was a guest on Anna Raeburn's LBC programme from 2-3pm. Anna concentrated on the alcoholism issue in my book, and it was frightening how many people called in to talk about their alcoholic relatives. There were some incredibly sad stories from callers and they made me realise how lucky I am to have come through all that and be as happy as I am. It was very exciting to take part in a live phone-in and good to see what a real pro Anna is. She's an incredibly quick thinker, yet she takes no nonsense from anyone!
Features have already been in The Northern Echo, Yorkshire Post and Darlington and Stockton Times, and the Sunday Express magazine S chose my book for their Buy It! section on June 24th.
But you know the absolute total final highlight was my book launch party on June 28th, the book's publication day. Beforehand I asked our son Jack for advice about my speech and he said: "Why not just tell people why you writ your book?" Mmmm, he has a way to go yet before he takes to writing professionally...
Back to the launch and I had it at the Cafe in Northallerton High Street and it was a fab party from beginning to end. The next day there were quite a few hangovers and vows from my friends that they will never, ever again touch a drop of alcohol, not even if they are pinned down and forced to drink.....Yeah, I'll believe that when it happens.
Performance coach Phil Olley and my husband Ian Cross made some very funny, yet very moving speeches. It was everything I wanted in a launch - fun, happy and friendly, and it made me want to get book number two out now so we can party all over again! Thank you to everyone who came along and joined in the fun - you all added to the atmosphere, thanks for buying the books, and thanks for the gifts and cards.
Even sitting at a table signing the books with my purple pen was such a surreal experience, and the £100 profit from the sale of the books is going to the British Heart Foundation, in memory of my mum, so thank you.
So many of you have been asking about how I wrote Monsters, so I've teamed up with Phil Olley, the performance coach, who launched my book, and we're going to run an evening seminar in York for any up and coming writers on Thursday September 20. There's a link on my Events page so get registered quickly as it's already proving popular.
And a final reminder - if you've read Monsters, please let me know your thoughts, good, bad or ugly? Happy July.